How does Sitecore Marketing Automation Work?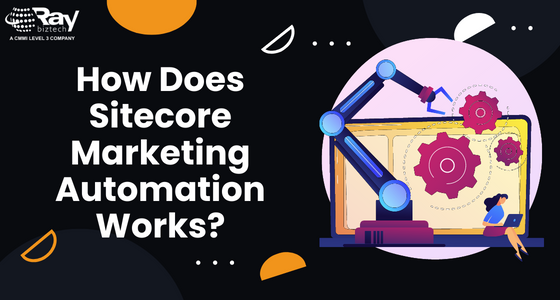 How does Sitecore Marketing Automation Work?
Businesses are prioritizing their support in respective technologies to innovate & produce unmatched value for their customers. With the active customer necessities in the digital age, product & service marketing needs to update to build business strategies and grab new opportunities.
According to a recent analysis, companies using marketing automation to promote prospects see a 422% increase in quality leads.
Marketing automation has turned into a revolutionary technology for brands to drive marketing campaigns & achieve exponential growth in their businesses.
Top case studies of Sitecore Marketing Automation:
Sitecore's Marketing Automation abilities help businesses optimize the below-mentioned activities:
Efficient Personalization and Customer Journey Mapping
Nurturing towards the Qualified Leads
Promoting Webinars and Digital Events
Operate Proactive and Multi-Channel Communications including Text & App Notifications & Email
Hassle-free Contacts enrolment in the marketing campaigns
Tools that allow marketers to simplify their communications across various channels in real-time depend on behaviour, and user data are evolving more conveniently than ever. The concern now is choosing the proper one.
What is Sitecore Marketing Automation?
Amongst this scope of new automation tools is Sitecore Marketing Automation. But what precisely is Sitecore Marketing Automation?
Here are a few things:
An evaluation tool that identifies customer actions or events & evaluates them instantly.
An Integration tool that plugs into Sitecore to connect & operate journeys across any channel
An implementation tool that allows you to drive towards your customer, communicate privately & build their profile.
​A decision-making tool that connects these actions & events with data from several channels to choose the proper outcome for that customer.
Why Sitecore?
Digital experience platforms require comprehensive enhancements to deploy the latest marketing automation segments, which is not only a time-consuming process but also has cost implications. On the other hand, Sitecore seamlessly incorporates customer data to navigate personalized communications to be delivered across numerous channels.
What are the benefits of Sitecore Marketing Automation over other automation tools?
If your website is built on Sitecore, then Sitecore Marketing Automation is the obvious choice as it offers:
Integrated and Native marketing automation that comprehends all users' actions across your web properties
Ability to act on data from all areas of the buyer journey (anything from email click to form submission)
The ability to automate web data based on automation denotes, so marketing automation pushes the web experience & learns from it.
How does this Marketing Automation work?
Sitecore Marketing Automation is created upon several building blocks and elements as follows:
Default elements – the Start & End elements that indicated where contacts are enrolled in the automation campaign & where the campaign ends.
Marketing actions – the elements that you can utilize to make modifications to a contact in the system, for instance, to add/subtract points from a contact's engagement value.
Listeners – the elements that you can utilize to listen for precise actions made by a contact in a distinctive period, to specify how the contact should move through the automation campaign.
Decision points – the elements where you can establish a rule to determine how contact should flow through the automation campaign. You can utilize this element to filter contacts without hold because they are considered against the selected rule immediately.
Other elements – The elements that you can utilize either to delay a contact's activity via the campaign or to move a contact to the beginning position of the campaign or another campaign.