Microsoft unveils path-breaking Azure capabilities at Build 2019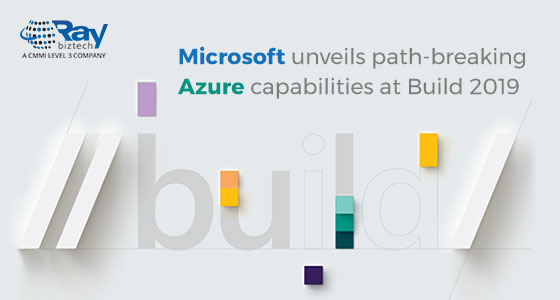 Microsoft has unveiled new announcements at the Build 2019 event, the most prominent one about Azure platform. This event showcases some of the amazing progress in AI and mixed reality.
At the keynote address, Microsoft CEO Satya Nadella said he considers Azure as the "the world's computer," and was looking forward to providing great experiences to developers and customers alike. With the presence of over 54 data center regions, the end-users can take their experience to the next level with over 25 updated features, Nadella added. The Hololens 2, Azure Data Box, Azure IoT, Azure Sphere, and Edge platform – will all now be enriched with the new capabilities, revealed Microsoft.
Azure will drive recommender systems on to users devices about the choice of beverages at Starbucks, and offer real-time options of what customers with similar profiles have purchased. With detailed machine learning and artificial intelligence, Azure can tell managers about the type of brewed coffee, thanks to information shared with the smart device of the consumer across the cloud-based systems.
The Azure Cloud service is also set to align with Office 365 and the Dynamics range of products. This will improve flexibility and offer more range of options to uses switching between different platforms, enriching reports and analytical dashboards.
The Azure-driven bots will direct which machines are need of repair and the stock of coffee replenishment to fulfill new and upcoming orders. According to Microsoft, a secure Blockchain system has also been unveiled at Build 2019. This allows users to tap for a choice of coffee and retrieve details revealing the origin of the coffee beans by scanning the QR code on their device.
The newly unveiled Azure Speech platform will also incorporate vernacular words, and let users have a completely satisfying experience with the slang. This goes a long way including acronyms and symbols as well as the tracking of voice signatures.
About Raybiztech
Raybiztech is a leading global Information Technology (IT) Services and Solutions, a CMMI Level 3, ISO 27001:2013 Certified Company. We are a Member of NASSCOM, HYSEA, NJTC, and AIIA. Raybiztech offers comprehensive end-to-end IT Services for Business Application Development, Enterprise Solutions, Enterprise Collaboration Services, Testing and Quality Assurance Services, Cloud Computing and IT Infrastructure Management to organizations in the Banking & Finance, Insurance, Healthcare, Manufacturing, Retail, Media & Entertainment, Leisure & Travel, Telecom and Energy & Utilities verticals as well as Independent Software Vendors.