Raybiztech is the Co-sponsor at The 404 Conference, The Platform to divulge the travail, struggle and tears behind Success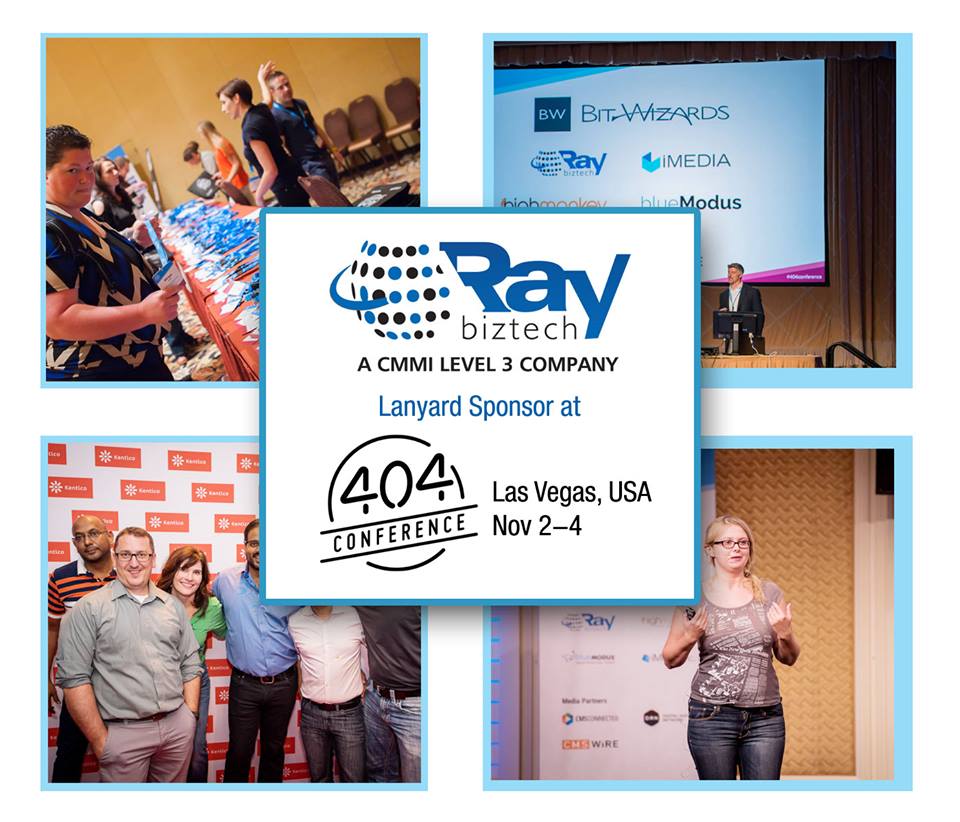 Los Angeles, Aug 2nd, 2016. Raybiztech is proudly associated with Kentico Flagship Annual Event, The 404 conference, at Las Vegas, Nevada from November 2-4, 2016. The event is planned for 3 Days, with 2 Tracks - Business and Technology, with over 30 sessions of incredible talks from industry experts, fearless behind-the-scenes case studies of real-life projects, with plenty of panel discussions and roundtables.
The 404 Conference, hashtag #404conference, is planned to provide a platform to all to reveal the travail, struggle and tears behind their Success. As you know, everybody brags about their achievements but nobody is brave enough to show the mistakes that led to them. This event will give you an opportunity to hear from marketing superheroes, developers, and your daredevil peers about how failure is the mother of innovation. If you want to learn from these real time experiences, you must take your place reserved at the 404 conference that breeds success.
The 404 conference gives you a behind-the-scenes look at the trials and tribulations experienced by digital marketers around the globe and the amazing results that never giving up can achieve. Inspirational talks and real-life case studies will educate you on the most up-to-date trends and proven best practices guiding you towards cutting-edge innovation.
Learn more about 404 conference at http://www.404.digital
The event will have November 2 entirely dedicated to the Kentico Experience with product updates, presentations, and hands-on sessions that give you a unique first look at Kentico 10 in action. You can be the lucky one to be among the first people to experience Kentico 10 in action, see the new features, learn how to use them, and get your questions answered by the brains behind the product.
The speakers at the conference have amazing experience in diversified verticals and solutions. You have following speakers among others in the conference:
Dave Conder, CTO and Co-founder at BlueModus Inc. (US): Dave has been using technology to create value and solve problems for more than 15 years. His background includes technical management, network architecture and design, security, and application development. As CTO, Dave ensures that BlueModus always uses the best people, practices and tools to deliver world-class digital marketing solutions.
Brian McKeiver, Co-founder at BizStream (US): Brian McKeiver is Co-Owner & Kentico MVP at BizStream, a software development company in Allendale, MI. He has over 14 years of experience leading his company that employs 25+ developers and technologists. In addition to his expertise in web development, integration, and digital marketing, Brian is active with the tech community via his blog at Mcbeev.com. When Brian isn't working, he spends time with his wife and 3 daughters and is an avid sports geek.
Ilesh Mistry, Solutions Architect at MMT Digital (UK): Ilesh's role is to promote Kentico best practices and provide architectural solutions for Agile projects. He enjoys travelling, spending time with his wife and 1 year old son and supporting his favorite football team Manchester United.
Bryan Soltis, Technical Evangelist at Kentico Software (US): Bryan Soltis, the Florida-based Technical Evangelist at Kentico, is an avid .NET developer with over 16 years of web development experience. He has completed projects for IMG, HP, and other Fortune 500 companies and, as a former Azure VTSP, has developed numerous applications with Microsoft's cloud and Kentico, including custom software development and globally-available enterprise applications. He loves working with the development community and educating developers on best practices and new technologies. Oh, and he really likes beer.
Vince Mayfield, CEO at Bit-Wizards (US): The founder and CEO of Bit-Wizards, an Inc. 5000-ranked technology and marketing firm. Vince guided Bit-Wizards to earn distinctions including 32 Gold & Silver ADDY Awards, 7 Best Companies to Work Awards, Microsoft Digital Marketing Excellence Award, and Florida's Top 50 Companies. He earned an MBA from University of Notre Dame and a Digital Marketing Mini-MBA from Rutgers. Vince has authored and co-authored 5 books, serves as an expert witness, speaker, board member, and is a managing partner and CTO for TalkingParents.com. In his spare time he is a Commercial Pilot and enjoys flying Aerobatics in a WWII SNJ Texan.
Jay McCormack, Co-founder at 3 Degrees North (AUS): It isn't easy to explain what Jay McCormack does for a living. It says "Digital Producer" on his business card; Jay describes his job more in terms of problem solving. Put simply, Jay helps organizations match technology to their needs so that they can run more efficiently, communicate to their customers more effectively, generate more revenue and do more good. Co-Founder of 3DN, Jay now produces integrated web solutions for associations and membership organizations.
Raybiztech is Kentico Gold Partner and has been one of the leading Kentico Partner in the world. Raybiztech has the largest Kentico team in the world delivery cutting edge solutions to Manufacturing, Education, Healthcare, BFSI, Retail and Media verticals among others.
The tickets can be reserved here: https://www.eventbrite.com/e/404-tickets-24421572581. We highly recommend to go for the combo Ticket which will give you the access to all Kentico Experience on Nov 2, all Technology and Business sessions on Nov 3-4, to all Social events, breakfast and lunch on all three days.